So it is best to design an IT organization and systems approach that meets both sets of drivers and anticipates that business organizational change will happen. The best solution for meeting both sets of drivers is to organize IT as a 'hybrid' organization. In other words, some portions of IT should be organized to deliver scale, efficiency, and high quality, while others should be organized to deliver time to market, and market feature and innovation.
The functions that should be consolidated and organized centrally to deliver scale, efficiency and quality should include:
Infrastructure areas, especially networks, data centers, servers and storage
Information security
Field support
Service desk
IT operations and IT production processes and tools
These functions should then be run as a 'utility' for the corporation. There should be allocation mechanisms in place to ensure proper usage and adequate investment in these key foundational elements. Every major service the utility delivers should be benchmarked at least every 18 months against industry to ensure delivery is at top quartile levels and best practices are adopted. And the utility teams should be relentlessly focused on continuous improvement with strong quality and risk practices in place.
The functions that should be aligned and organized along business lines to deliver time to market, market feature and innovation should include:
Application development areas
Internet and mobile applications
Data marts, data reporting, and data analysis
These functions should be held accountable for high quality delivery. Effective release cycles should be in place to enable high utilization of the 'build factory' as well as a continuous cycle of feature delivery. These functions should be compared and marked against each other to ensure best practices are adopted and performance is improved.
And those functions which can be organized flexibly in either mode would be:
Database
Middleware
Testing
Applications Maintenance
Data Warehousing
Project Management
Architecture
For these functions that can centralized or organized along business lines, it is possible to organize in a variety of ways. For example, systems integration testing could be centralized and unit test and system testing could be allocated by business line application team. Or, data base could have physical design and administration centralized and logical design and administration allocated by application team. There are some critical elements that should be singular or consolidated, including:
if architecture is not centralized, there must be architecture council reporting to the CIO with final design authority
there should be one set of project methodologies, tools, and process for all project managers
there should be one data architecture team
there should be one data warehouse physical design and infrastructure team
In essence, as the services are more commodity, or there is critical advantage to have a single solution (e.g. one view of the customer for the entire corporation) then you should establish a single team to be responsible for that service. And where you are looking for greater speed or better market knowledge, then organize IT into smaller teams closer to the business (but still with technical fiduciary accountabilities back to the CIO).
With this hybrid organization, as outlined in the diagram, you will be able to deliver the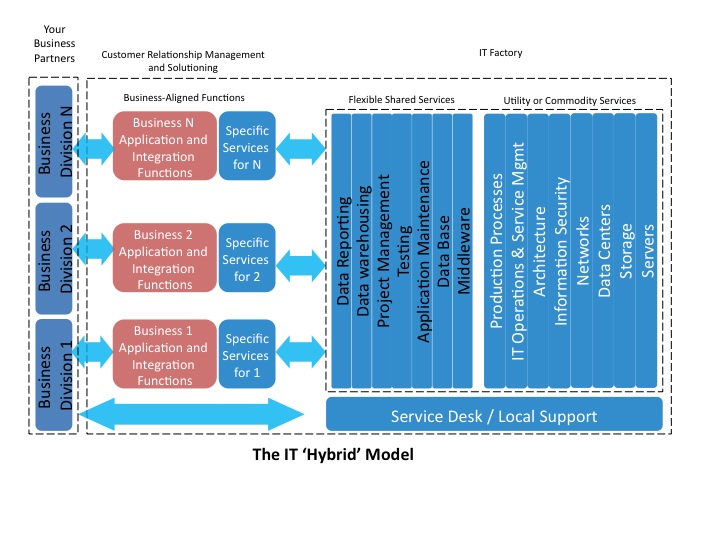 best of both worlds: outstanding utility services that provide cost and quality advantage and business-aligned services that provide TTM and market feature and innovation.