This reference page provides an overview of the procurement lifecycle and outlines key processes and practices to enable effective procurement. Over time, I will also add the templates to assist teams looking to improve their capabilities.
First, while there is some material available publicly, much of it is high level and does not provide consistent definition or detailed processes. So, as a reference, here is a diagram of the procurement lifecycle that I have seen effectively utilized in a number of large commercial organizations.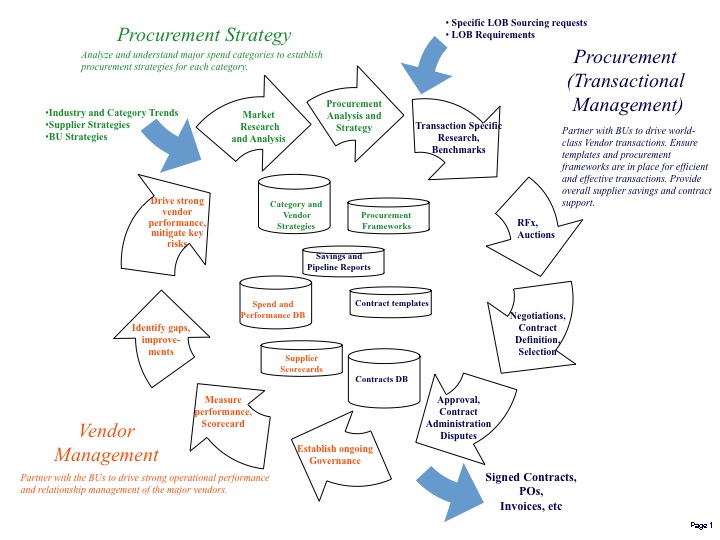 There are three primary process areas for procurement:
Procurement Strategy – where for major spend categories of the organization, the procurement team analyzes and defines the procurement strategy for each category
Procurement Transactions – where for specific requests for services or goods, the procurement team partners with the business unit to research and identify sources, communicate with vendors and execute and complete a transaction that meets functional requirements and cost and risk goals for the organization
Vendor management – where the services and products provided are regularly evaluated and discussed to ensure they meet specification and any issues or improvements are identified and acted upon by both organizations
Often, organizations focus only on the specific transactions, and do not spend adequate time on procurement strategy and fail to followup with vendor management. By not having effective procurement strategy, it is much harder to establish a competitive landscape for each procurement, resulting in either suboptimal choices or mediocre pricing. By not following up with vendor management, then the vendor performance is highly dependent on specific BU manager attention and often lacks the metrics and closed loop followup that will optimize performance. By not investing in these areas and staying disciplined in there execution for all major purchases, organizations sub-optimize their procurement and vendor performance by 10 to 30%.
A strong procurement capability leverages all three processes. Some of the key practices in each process are detailed below.
For procurement strategy, the organization should start by identifying the major areas of spend (e.g. marketing, technology, travel, etc). This become categories, which can be further delineated into areas differentiated by vendors, pricing, and typical purchase units. For example, marketing spend could be broken into online versus traditional media, and technology could be divided into hardware, software, and services (and hardware further subdivided into network, storage, workstations and servers). Then develop a category procurement strategy (hopefully well in advance of specific transactions) that meshes the organizational goals, legacy assets, and industry directions into a strong procurement approach that helps ensure a competitive playing field. So for example, technology storage procurement strategy, given the history of that market, may be to maintain a dual supplier model (say, EMC and HDS) where each major purchase is competitively bid between the two vendors and the IT team ensures that either can be broadly substituted so there is strong competitive tension. Or the marketing strategy may be to leverage multiyear contracts with minimum spend levels and strong effectiveness metrics to ensure both good pricing and effective remedies to address changes in media dynamics and viewership. It is also possible to leverage benchmarking or specialty procurement services to drive best in class results but this is usually the exception and not the rule.
For procurement to truly achieve optimal value, each significant transaction should leverage the category procurement strategy. If there is no strategy in place, it should be built as part of the initial stages of the transaction research. This category research and analysis is the first step where the procurement team with a knowledgeable business team, define the service or product required and identify likely suppliers. Market shares, industry trends and financial viability of all potential suppliers should be known. Then, depending on the category procurement strategy, an appropriate transaction path is chosen. This can vary widely from a very lengthy and formal RFI to RFP process, to a very rapid and structure e-auction process to a shortened but highly competitive bid process between a few well-known suppliers (as perhaps for the storage situation mentioned earlier). Once the approach is chosen, both the business unit and procurement work together to interface with the vendors and ensure strong specification and competitive tension. This joint exercise is critical to achieving optimal results. Additionally, wherever possible, corporate templates for RFIs, RFPs, terms and conditions, etc, should be leveraged to achieve consistent and robust practice. These templates should be available in easily accessible libraries. Procurement should take the lead in negotiation, but note that when the business unit (BU) leads are locked arm in arm with procurement, and there are no side channels of information, a much more competitive bid process occurs with generally far better results (particularly in inefficient markets like IT). Once the bids are finalized and a recommendation is made (again using a template) and approved, the contract is finalized and put in place (and stored in a master contract database.
Once the service or product is delivered, then vendor management is implemented. By properly 'farming' all key supplier relationships, organizations can increase significantly the results from the procurement. Once procured properly, most supplier issues are due to neglect or misunderstanding. By having regular meetings between the BU and the supplier facilitated by procurement, these issues can be avoided and a continuous improvement approach can be introduced that drives better performance. Metrics should be captured for all key services, issues should be documented and be specific, and key stakeholders must be engaged in the process. Either weekly or monthly the working teams should meet and review operational performance and progression previous issues. On a quarterly or every six months, executive management should meet to review performance, new issues, and progress on old issues or identified improvement efforts. This joint senior attention will result in proactive care and far better results over time. In fact, having an supplier awards based on these matrices and improvements, can be a further impetus for improvement.
By properly executing and engaging across all three procurement disciplines. organizations can deliver much better supplier results on all dimensions.
Do you have templates or specific practices that you would add to this reference page? If so, please provide comments and feedback and I will be happy to add them.
Best, Jim Ditmore